Soucy Defense
Ensuring Mission Success
We provide an alternative track capability to support a more deployable and persistently engaged Army, whilst reducing logistic need.
About
For 30 years, Soucy has been involved in defense applications globally. It started in 1988, with a project for Finland's Sisu Nasu NA-140 vehicle weighing 5mT, to the development of a 16mT CRT system for the BRONCO vehicle in 1998. In 2002 the first of the M113 family of vehicles was integrated with CRT weighing 13mT and to date are currently mounted to over 1000 platforms worldwide. Also, in the early 2000's, CRT was integrated onto the BV206 and BVS10. These are very versatile vehicles, not only for defense, but used in the commercial sector in over 40 countries. Soucy increased the CRT design limit for the Danish Defense to 22mT for the M113 G4. In 2012, Soucy developed a CRT system capable of sustaining vehicle weights up to 35mT for the Norwegian Defense (CV90), and currently, applications for CRT systems have growth to 55mT for defense applications.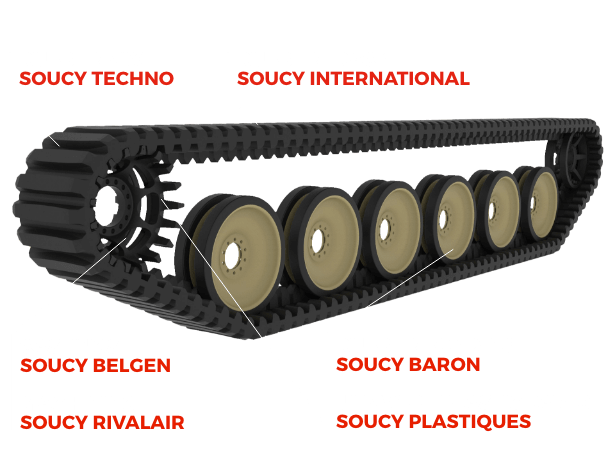 INTEGRATED COMPANY
Soucy group has the expertise and resources to design and produce components associated with CRT systems in UHMW-PE, rubber, metal and cast-iron. Whether for designing, machining, casting or molding of UHMW plastic & rubber parts.
By combining the skills and expertise of all Soucy subsidiaries, the organization is able to deliver the value of a one-stop shop experience for any project. Direct access to engineering and chemists team for an increased productivity and flexibility.